While Alphabet's Q2'22 earnings report missed Wall Street's expectations on earnings and revenue grew only 13% from the prior year quarter, Google Cloud still showed impressive growth of over 35% year over year. Despite the inflationary and economic headwinds, one of the most venerable technology companies of our lifetime continues to invest in its cloud platform. East Los Capital's cloud thesis is in line with Alphabet's. As we reflect on our first investments as a firm, we would like to highlight our cloud thesis, expertise, and how we have lined up alongside Alphabet's bet on the Google Cloud Platform.
Our first Google Cloud investment – Qwinix and Cloudbakers
In early 2021 we invested alongside our friends at Sunstone Partners, a leading growth-oriented private equity firm, in a merger between Qwinix and Cloudbakers which positioned the combined company to become the Google ecosystem leader in professional services. On January 14, 2022, the company rebranded to 66degrees to better articulate its enhanced breadth of services and market position as one of the fastest-growing Google Cloud Premier Partners. But how did we get there?
Qwinix was founded in 2014 by Darshan Puttannaiah, a veteran systems engineer at institutions such as TIAA-CREF and NTT DATA. Qwinix's suite of services were comprehensive for the cloud space, offering a diverse menu of options for cloud-curious enterprises. This included Qwinix becoming a consulting partner of Google Cloud Platform (GCP) and offering services in cloud infrastructure engineering, product engineering, custom application development, DevOps, and data engineering (Machine Learning, AI, and analytics).
In early 2019, East Los Capital's software- and data-enabled sourcing process helped us identify and start tracking Denver-based Qwinix in our fastest-growing company database. The following year, we began to build a relationship with Darshan. We appreciated Darshan's disciplined focus and foresight in building a cloud native consultancy focused on Google Cloud. We pride ourselves on being patient with management teams and ensuring they understand our views on the market and how we add value. We worked thru a path forward for Qwinix with Sunstone Partners and Cloudbakers, and now have the professional services leader for Google Cloud – 66degrees. Today, Darshan serves as the Chief Technology Officer (CTO) of 66degrees.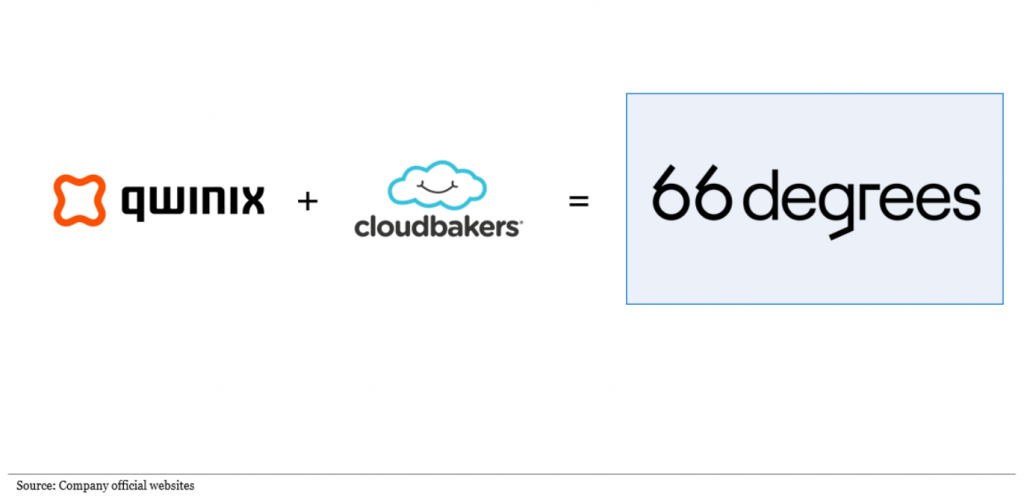 66degrees offers a variety of Google cloud services, in four solutions categories: Build, Innovate, Optimize, and Collaborate.
Build: Under the "Build" section, 66degrees offers cloud security and migration services, including security configuration and support with the company's cloud engineers. The Build suite also includes Velocity Engineering (accelerated Google Cloud initiative launch) and Application Development (delivery of software applications).
Innovate: The firm's "Innovate" solutions are dedicated to delivering cutting edge computing solutions for clients and include Edge IoT solutions, Anthos Solutions, Data Modernization, and Application Modernization. It is notable that Anthos Solutions is a hybrid cloud platform that unifies the management of infrastructure and applications deployed across on-prem, colocation data centers and public clouds, including Google Cloud, AWS, and Azure.
Optimize: The Optimize services include solutions that help companies save on costs, namely FinOps, Managed Google Cloud, and Cloud Cost Optimization. FinOps specifically helps clients' Finance departments improve budgeting and forecasting and ensure that cloud costs are optimized to their organizational needs.
Collaborate: 66degrees supports firms' working with Google Workspace from multiple angles, including Google Workspace setup and migrations, existing account revamps, or hybrid implementation projects between Google and non-Google collaboration tools.
East Los Capital cloud investment thesis
East Los Capital is highly constructive on the long-term growth prospects of the cloud services providers. In early 2020, Wall Street had become focused on the law of large numbers as it applied to the Big Tech companies offering cloud platforms-mainly Amazon, Google & Microsoft. However, the COVID-19 pandemic has brought about unprecedented levels of digital transformation and subsequent cloud migration for enterprise companies.
In a 2022 "Enabled, by East Los Capital" podcast interview, Darshan observed that the COVID-19 pandemic has accelerated the cloud adoption process resulting in more customers now looking at how they can transform their business with cloud. Darshan noted that as more and more data gets created every day, many companies are attempting to figure out how they can become a software company, no matter what industry or vertical they happen to be in.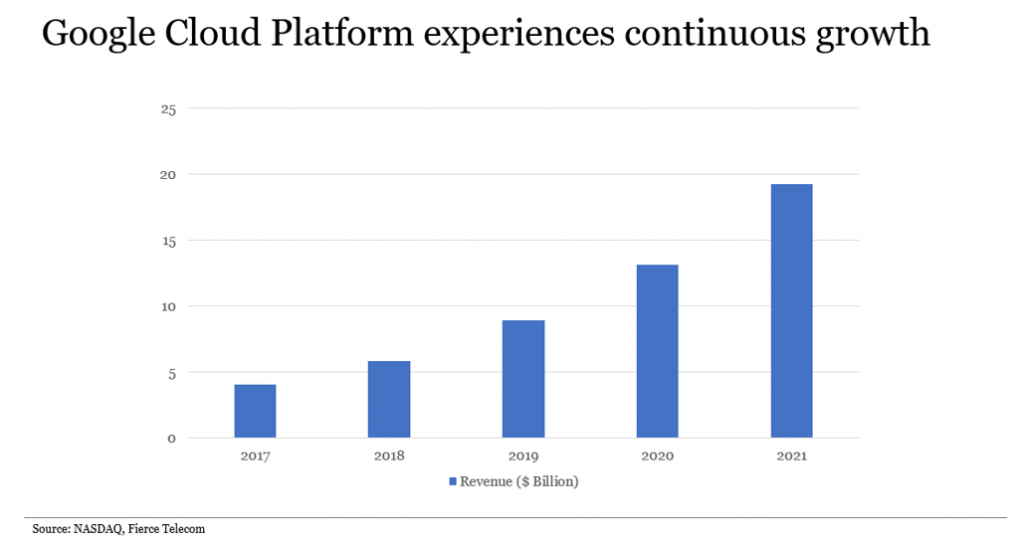 Three major factors contribute to our positive long-term cloud-investment thesis:
Enterprise cloud migration driven by operational efficiencies & reduced IT costs
Continued market growth driven by cloud native development, AI/ML, and serverless
The availability of multi-cloud and hybrid cloud options.
Many enterprises today are still using cloud services mainly for basic functions. However, the cost-saving incentives for migrating to the cloud, such as less spend maintaining local IT departments and servers, will continuously drive corporations to migrate to cloud computing platforms. Secondly, strong market growth for the cloud integrators, which serve as partners for the Big Tech companies, continues as they are less subject to the same law of large numbers headwind. These integrators drive new cloud functionalities and shifts in coding paradigms. Future drivers of cloud migration growth are expected to lie in AI/ML and serverless computing. Enterprises are able to take advantage of the breadth of AI tools available in the cloud to stay competitive in the modern digital marketplace. And, serverless computing will continue to gain traction for its cost and efficiency advantages. Lastly, the emergence of multi and hybrid cloud environments has given companies the flexibility to select the specific cloud services they need and which workloads they should move to the cloud.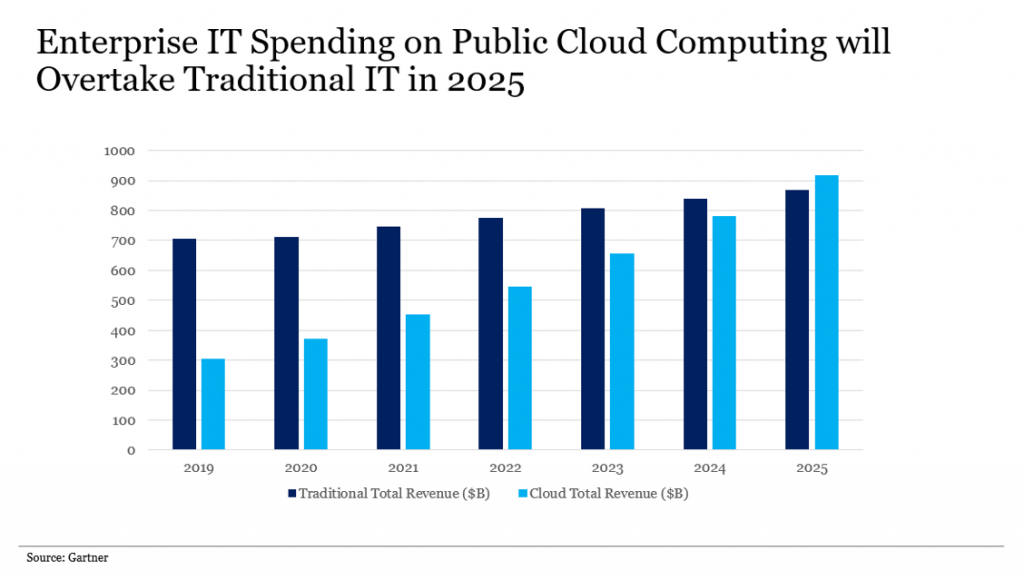 On an industry-level, the cloud infrastructure market also gives investors a chance for consolidating the fragmented IT services space. The status quo for cloud services providers in the United States is one of small services firms, individually partnering with Google Cloud and other cloud services providers such as AWS and Microsoft Azure. This is an opportunity for investors to bring about scaling opportunities and synergies when merging multiple companies as seen by the value creation 66degrees is exhibiting.
East Los Capital's unmatched team has built expertise over the last two decades and has a global vision
Anthony Valencia, co-founding partner of East Los Capital, has more than 25 years of investing experience in the internet and telecommunications space. Anthony's prior experience as an equity research analyst in the public markets where he was responsible for multi-billion-dollar positions in companies like Amazon, Google, and Baidu provides East Los Capital large amounts of historical context for how the enterprise cloud space has evolved.
In addition, East Los Capital's other co-founding partner, Emanuel Pleitez, helped execute the Onica and TriNimbus cloud services acquisitions, which resulted in one of the more successful cloud services exits to Rackspace. And in accordance with our "capital is not enough" approach, we have a family of technical advisors who are available to advise or take an active role in portfolio companies. They are a unique asset and include the CEOs of software or technology-enabled companies, investment professionals of major institutional private equity and venture capital firms, software engineers, and product managers. The extended team has experience at Google, Amazon, Microsoft, and other top-flight cloud and software companies such as Accenture, Disney, Facebook, GoDaddy, IBM, Intel, Symantec, VMware.
East Los Advisors have managed software engineers and solutions architects in dozens of countries and are eager to continue participating in cloud growth opportunities around the globe. East Los Capital engages corporate management teams via company visits and interviews, often leading to extensive due diligence of market leading cloud services companies across all geographies including Latin America and Europe. We are also in the process of a deep dive in Asia that could add to our portfolio diversification. This includes mapping what the future holds for cloud in the region, even tracking Alibaba Cloud partners to best understand how they are keeping up with the other cloud environments. Having such international reach and the ability to draw on decades of experience in the space has greatly informed East Los Capital's approach to investing in cloud services.