Finix is doing for fintech what AWS did for web services
As one of the first investors in Finix Payments back in 2017, it's been fun to grow alongside the Finix team and help educate the world about the payments industry. And, it's always nice to get some validation from other investors like Acrew Capital, Act One Ventures, Activant Capital, Argo Ventures, Aspect Ventures, Bain Capital Ventures, Class 5 Global, Homebrew, Insight Partners, Inspired Capital, Precursor Ventures, Sequoia Capital, Village Capital, and Visa. Sequoia Capital led the Series B of $35 million, announced yesterday.
While payments is sometimes a painful part of running a company and quite frankly a blackbox to most folks outside of the payments industry, Finix is helping companies demystify the facilitation of payments and take home more of their hard earned revenue. Finix is doing for financial technology (fintech) what Amazon Web Services (AWS) did for web services.
Before we explain the payment stack and show you some cool visuals courtesy of the Finix team, let's illustrate the complexity of payments by breaking down what actually happens when you pay for a rideshare service with the Visa credit card you have loaded into the rideshare app (example below and substance of the content was provided by the Finix team and can be found on the Finix blog: https://blog.finixpayments.com/).
Charge customer card: The rideshare platform acts as a payment facilitator and instructs their acquiring processor, First Data, to charge the Visa-branded credit card you have on file, then
Verify funds: The processor checks with your issuing bank–via the issuing processor–to see if your card is valid and has enough funds to pay for the ride, then
Authorize transaction: The issuing processor authorizes your transaction in a few seconds, which serves as a guarantee that the ridesharing platform will be paid later, then
Make funds available: The next day, the acquiring bank, receives the funds from the issuing bank and makes them available to the ridesharing platform, then
Take fee and pay driver: The ridesharing platform takes their fee and sends the remainder to the driver
Much happened in that one transaction! Aside from the customer or buyer and the service provider or merchant, you have:
payment facilitators
acquiring processors
issuing banks
issuing processors
acquiring banks
card networks
all involved in this one transaction. Here are some of the key players: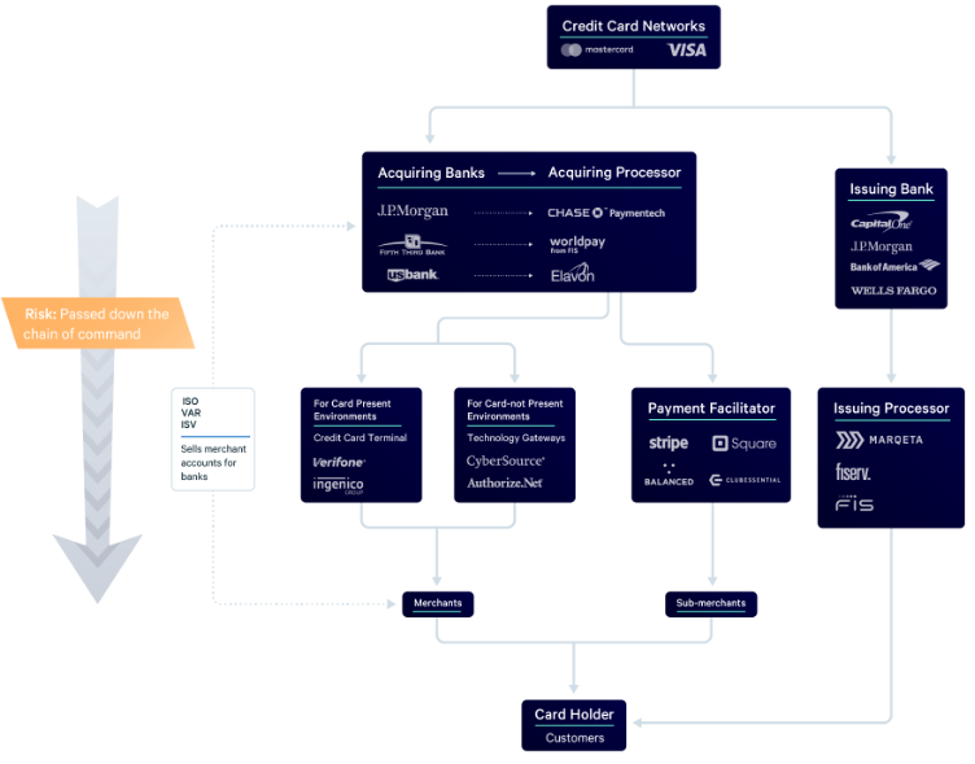 Source: Finix Payments
These players create the payment stack, or what could be referred to as the "payments layer cake" visualized here: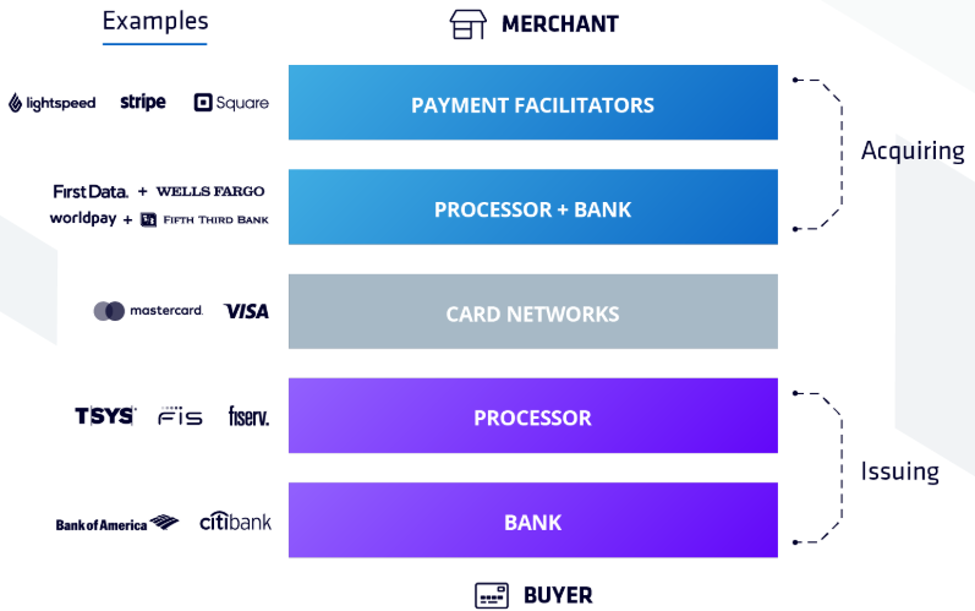 Source: Finix Payments
Card networks influence every layer of the payment stack. There are four major card networks, or "brands," in the U.S. including Visa and Mastercard. These card networks have the important task of setting the interchange fees that merchants are charged to accept credit cards. They only bear risk if a bank becomes insolvent.
Issuing banks issue the credit cards on behalf of the card networks and hold the buyer's deposits. They are liable for the purchases made by the buyers and responsible for transferring funds to acquiring banks.
Issuing processors sit directly on top of issuing banks. While most people have never heard of companies like TSYS, FIS, and, more recently, Galileo, they work with the card networks and issuing banks, to approve or decline transactions in real-time.
Acquiring banks are the merchant's bank and are part of the "merchant acquiring" stack. They get information from the issuing side about transactions and cardholders during authorizations and payment processing. Subsequently, they actually receive the funds from the issuing banks after a transaction has occurred and make them available to the merchant.
Payment processors do some of the heaviest lifting in the processing of payments. While they primarily process transactions, acquiring banks have empowered them to underwrite merchants, manage disputes, and make payouts to merchants.
Payment facilitators are sometimes referred to as aggregators or master-merchants and have many of the privileges of payment processors. The facilitator is a relatively new type of Payment Service Provider (PSP) and is part of the payments infrastructure layer that Finix deals with the most. Given the limitations ISOs (Independent Sales Organizations) offered merchants in the 1990s and 2000s, the payment facilitation model emerged. The payment facilitator can
underwrite sub-merchants,
process transactions,
manage disputes, and
make payouts on behalf of sub-merchants.
While small businesses relying on simple transactions can partner with a Stripe or Square, larger organizations processing millions worth of transactions can utilize Finix to become a payment facilitator themselves. Becoming a payment facilitator allows a company to control their own payment stack by streamlining the underwriting process, insulating the sub-merchant from onerous compliance responsibilities, and simplifying the funds settlement process to reduce the effort required for reconciliation. Ultimately, this model leads to greater monetization by retaining more basis points on every transaction.
The global payments market is $2 trillion and Finix is poised to make a large dent in it starting with the trust of customers like Clubessential, Lightspeed POS, Kabbage, and Passport. Instead of taking a percentage cut of every transaction from customers like other payment technology companies do, Finix's fee structure allows its customers to own their payments technology and actually grow their top line (revenue).
AWS created cloud services and developer tools to provide teams flexibility in customizing products without having to spend all of their resources maintaining infrastructure. Finix is doing the same for the fintech community by creating "developer-friendly building blocks to provide integrated payments for your customers" as Pat Grady, Partner at Sequoia Capital, explains in the recent funding announcement. Pat Grady will joining Finix's board of directors.
Finix is doing for fintech what AWS did for web services. While AWS now has Google Cloud, Azure, and other competitors, we suspect there will be others trying to do with Finix is doing. We welcome the competition as we are only just beginning the path I had the privilege of discussing early on with Richie Serna, CEO and Co-founder of Finix Payments and one of our Advisors at East Los Capital.
If you are interested in joining the team of 60 Finixians and growing, please do not hesitate to reach out or apply on Finix's website. They are hiring for San Francisco (and soon Santa Clara), Cincinnati, Miami, and remote-based roles to help meet growing customer demand and expand internationally.